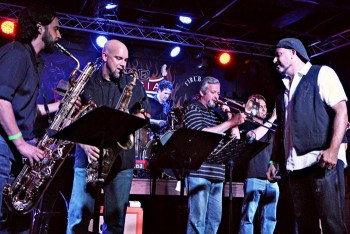 Bumpin' The Mango
2011-Present
Five great musicians met one October evening in 2011 to discuss the possibility of forming a multiple horn-section funk band in the style of Tower of Power, Stevie Wonder, The Blues Brothers and Earth Wind & Fire. Six months later at that same meeting place, Bumpin' The Mango debuted. For the past two years, BtM has been performing every other Monday at small jazz club called Cafe 290 in Sandy Springs, GA, and have been earning tons of accolades from all who have seen their high-energy, and unique brand of funk, soul and jazz. Visit their official website: www.bumpinthemango.com.
The Elegant Bachelors
2013-Present
Born out of the band Parker Smith & The Bandwith, this project is primarily a private, wedding party band. All members of this band are involved in a variety of other projects and gigs, but when the group gets together, harmonically and musically, they gel incredibly well. It speaks tremendously given this group has only been together for a couple of years. Visit their official website: www.elegantbachelors.com.